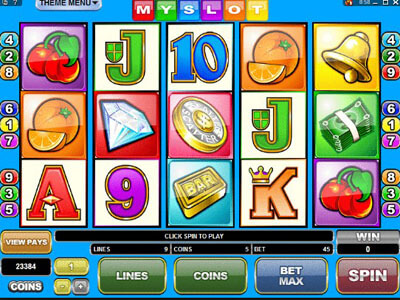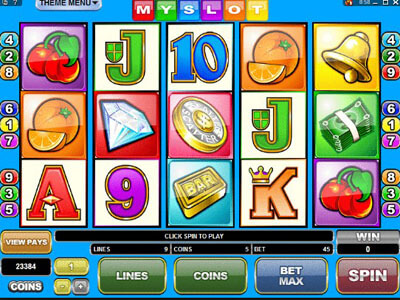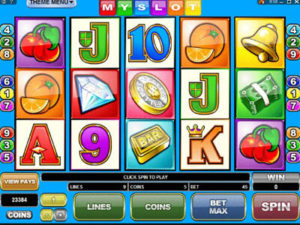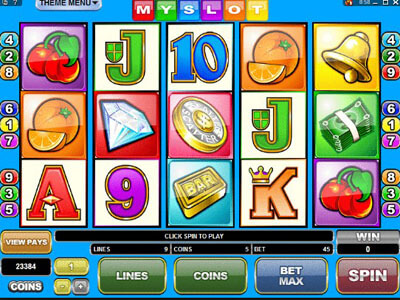 Ever wished you could create your very own slot with your very own theme? Well, it's not as crazy as it may seem. With Microgaming's advanced technology, they've created a slot that offers players infinite possibilities. It's called My Slot and it lets you create your own online slot using your own imagery. If it sounds complicated, rest assured that it's not.
My Slot is a very simplistic 5-reel, 9-payline slot, complete with Free Spins and Multiplier features. When the game launches, an introductory video will take you through the basic steps of creating your own version of the My Slot game. It explains how to select pics to be used as symbols and even how to add your own soundtrack and save each game – yes, it's possible to create more than one variation of My Slot. If you want to familiarize yourself with the slot's mechanics first, go ahead and play the default version of the game. Instead of your own symbols, it features classic slots icons like Bars, Cherries, Bells, Cash, Oranges, Diamonds, Coins and the 9, 10, J, Q, K and Ace card symbols, like most free online casino games.
Ready to create your own My Slot Online Slot? Here's what you need to do. Firstly, make sure that you have photos saved on your PC in easily accessible files. Then move your mouse over the 'Theme Menu' tab at the top of the screen. You'll see a 'Pets' (which is an example theme) and 'Default' tab along with a 'Create New Theme' button which you need to click. This will present you with a screen of Low Paying Symbols, High Paying Symbols, a Wild and a Scatter. To change one of these symbols to one of your pictures, simply click on them and then select a pic from your folders. You can also edit these pics to make them fit perfectly on the reels. You'll also have a 'Theme Color' drop-down menu and a 'Change' link to select music from your own folders on your PC. Most importantly is the 'Theme Name' area field which you can use to describe the My Slot game, you're creating. Don't use more than 20 characters, and make it easily recognizable should you create a few versions later on.
The themes and layouts are endless, whether you choose to theme your My Slot around your family, your friends, your animals, your hobbies or even yourself. Simply sign up at a casino using Microgaming software, like Lucky Nugget, and create your own unique My Slot. It's so easy, even your grandmother could do it. Better yet, if you join Lucky Nugget, you'll receive a choice of two welcome bonuses – a 100% match up to 1000 bonus credits or a 150% match up to 150 bonus credits. Either way, you'll score.